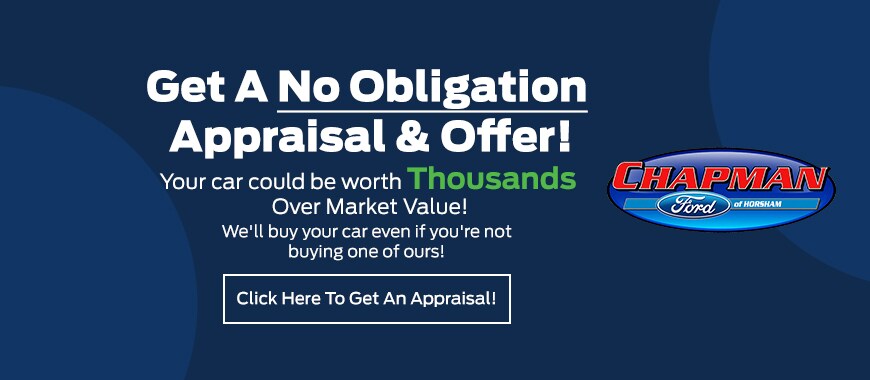 Are you looking for the best possible deal on your used vehicle? Look no further than Chapman Ford in Horsham! At our dealer, we know a thing or two about getting our customers the best deal they deserve, and we're prepared to offer you top-dollar for your trade! No strings attached!
The Process is Simple!
The hassle of a vehicle trade is a thing of the past thanks to the incredible staff and seriously simple process at Chapman Ford in Horsham. When you trade your vehicle with us, the process is quick and painless!
Step 1: We'll perform a routine inspection on your ride. Step 2: We'll research your vehicle in order to make you the best possible offer based on the latest local and national market data. Step 3: We'll offer you a cashable check that very same day, or knock that value off the price of a newer, nicer ride that you may have had your eye on!
Get Maximum Value with Chapman Ford in Horsham, PA!
What's the point of a trade-in if you can't maximize your return on your beloved pre-owned ride? At Chapman Ford in Horsham, PA, we are prepared to offer you up to $250 ABOVE MARKET VALUE for your used vehicle.
Now that's a deal you won't get from other dealers, and certainly not from online vehicle purchasing sites! Not to mention, our customer service and hospitality is top-notch each and every time.
So Many Ways to Save!
Believe it or not, trading in your old ride with Chapman Ford in Horsham, PA can actually save you money too! You see, depending on your state's sales tax rate and the total value of your trade-in, you may be eligible to save hundreds, if not thousands of dollars in state tax!
When you trade with us, you'll practically guarantee a better return than you'd get on the private market, plus a possible tax break! Now how could you beat that?
Chapman Ford in Horsham, PA is always ready, willing, and able to provide you with the absolute best service around, even when buying your old car, truck or SUV! Get the most bang for your buck when you trade with Chapman Ford. Contact us online, by phone, or in person today to get started!
Custom Vehicle Landing Page by

BitMoto